Hi guys, check out this Bimmer!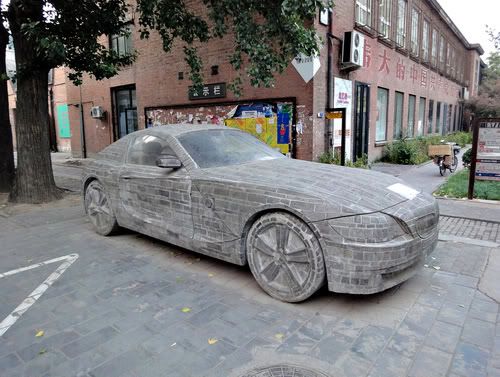 Yep, that's right. It is what you think that is. A BMW Z4 Coupe made out of stone, just hanging out on the street in Beijing, China.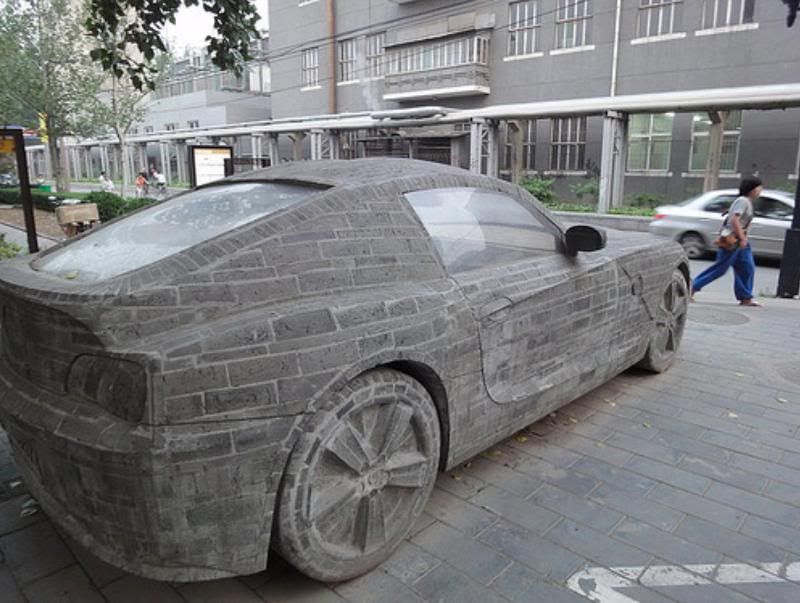 You know what's also cool about the car? It has a full interior as well. Check out the detail on the steering wheel and center console.
I wonder what it is made of exactly? Is that real brick-and-mortar work, or is it just cement made to look like something else? Could be styrofoam for all I know I guess.
Does it drive? Probably not, but then again, the Chinese are pretty damn ingenious people. All I know is, better have your afer life insurance policy paid up.
And how did they do the windows?!?
For our French readers:
Salut les gars, examiner ce Bimmer !
Ouais, cela a raison. C'est que vous pensez que cela est. Un BMW Z4 Coupe a fait de la pierre, traînant juste sur la rue à Pékin, Chine.
Vous savez quel est aussi frais de la voiture ? Il a un intérieur plein aussi. Examiner le détail sur le volant de direction et la console centrale.
Je me demande qu'il est fait d'exactement ? Cette vraie brique est-elle-et-le travail de mortier, ou est cimente a fait l'avoir juste l'air de quelque chose d'autre ? Pourrait être du polystyrène pour autant que je sache je devine.
Conduit-il ? Probablement pas, mais d'autre part, le Chinois est des gens ingénieux assez fichus. Tout ce que je sais c'est, mieux a votre afer La politique d'assurance-vie a payé.
Et comment ont-ils fait les fenêtres ! ?